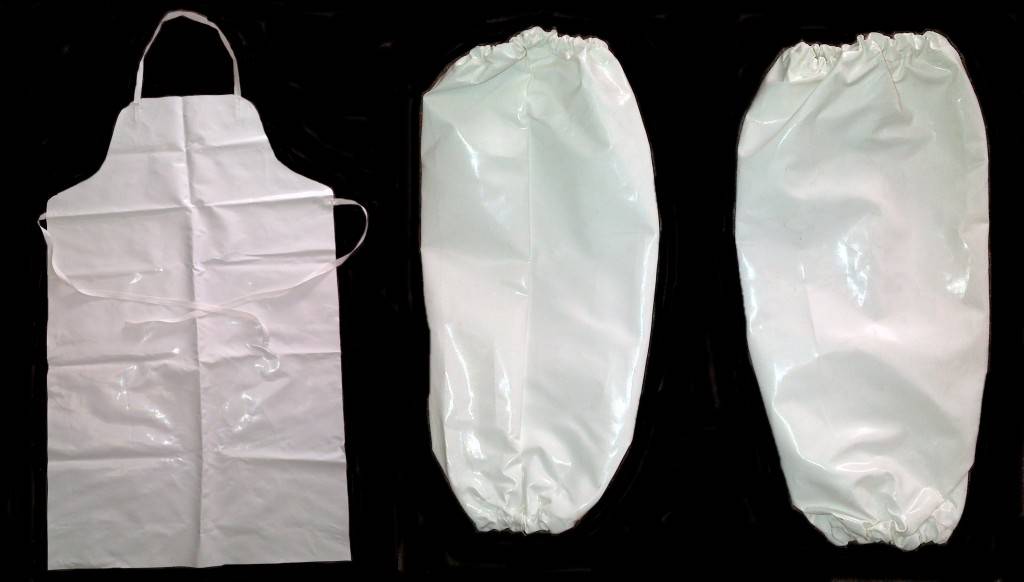 APRONS AND ARM SLEEVES
We manufacture PVC aprons and arm sleeves for the food industry from light weight PVC. We can make our standard sizes or custom sizes to suit the clients specific requests.
Aprons
Our aprons can be made from a variety of thicknesses of PVC, depending if you want a lightweight 400g up to a heavy duty 800g Apron. Coupled with webbing straps around the neck and waist for easy fastening.
If you require a specific size of apron that is not our standard size we can custom design any size for you.
Aprons can be used in many business areas including:

Fish processing companies
Steel and engineering companies
Food processing companies
Apron dimensions:
Width = 650mm
height = 1050mm
Arms Sleeves
Arms sleeves are used to protect the forearm during heavy work with steel, cold and wet products and sharp objects. Available in a range of material thicknesses from a lightweight 400g up to the heavy duty 800g.
We are able to manufacture to custom sizes on customer request.
Arms sleeves can be used in many business areas including:

Fish processing companies
Steel and engineering companies
Food processing companies
Arm Sleeves dimensions
Length = 400mm
width = 200mm
var _gaq = _gaq || []; _gaq.push(['_setAccount', 'UA-XXXXX-X']); _gaq.push(['_trackPageview']);
(function() { var ga = document.createElement('script'); ga.type = 'text/javascript'; ga.async = true; ga.src = ('https:' == document.location.protocol ? 'https://ssl' : 'http://www') + '.google-analytics.com/ga.js'; var s = document.getElementsByTagName('script')[0]; s.parentNode.insertBefore(ga, s); })();