Popular Canvas Pool covers are a Cape Town based manufacturer of safety and evaporation pool covers.Pool covers are the most secure and cost effective way to keep your pool safe and secure, while saving you money on maintenance costs.
The swimming pool cover is made of sturdy materials that will prevent anyone from falling into the water, provided they are attached and installed properly.We make the pool cover to your specific needs. Creating the ultimate waterbed like surface that children can walk over or play on without directly touching the water – giving you peace of mind.
Not only secure but economic!
A pool cover can slow down or even stop the evaporation process, which means you use less water for your pool.
Covering your pool can also reduce your pool's chemical consumption by as much as 35 – 60%.
A swimming pool cover can help you keep out unwanted leaves and other debris. By keeping out dust and other elements you can now spend less time vacuuming the surface and chasing down leaves in your pool. Which means you save time on cleaning and have more time to just enjoy it.
Pools are a luxury, adding value and entertainment to any home or business. But when it comes to safety a Pole Pool cover is a MUST. When it comes to family and pets safety, a Pole Pool Cover is a must!
Why use a Pole Pool Cover?
A pool is a wonderful asset to have at a home but also can be a danger for children and pets. A Pole Pool Cover is a safety feature that fits over the pool to stop anything from leaves to full grown adults from falling into the pool.
The cover is made from High quality, UV stabilized PVC fabric with aluminum poles running across the width of the pool. The poles act as the support, keeping the fabric above the water line and anything on top of the cover from falling into the pool. The cover is fastened down by means of a stainless steel ratchet system on the ends of the cover.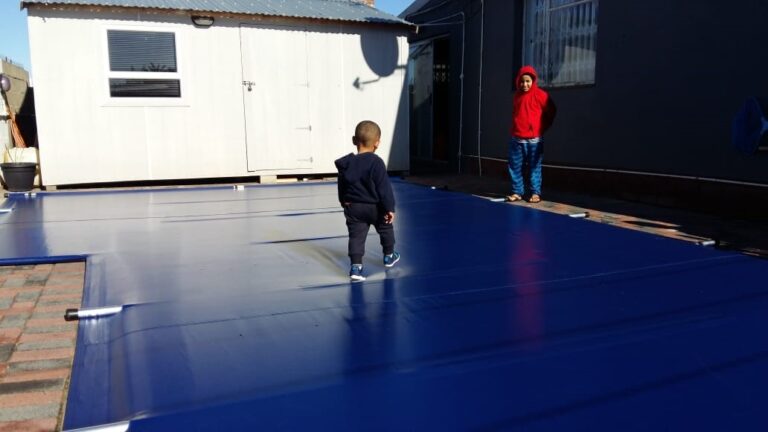 Why Use a Solid Pool Cover?
A solid pool cover is a more cost effective alternative to the Popular Pole Pool Cover. It helps prevent evaporation which in turn can decrease your monthly spend on pool chemicals and electricity running your pump.
The Solid cover is fitted by means of Stainless steel plates being fitted into the coping around your pool. Hooks are attached around the pool cover with a rope system to easily adjust the length. The hooks slide into the plates and hold the cover in place. This cover works great for small to medium sized pools but can be difficult to operate due to weight on larger pools.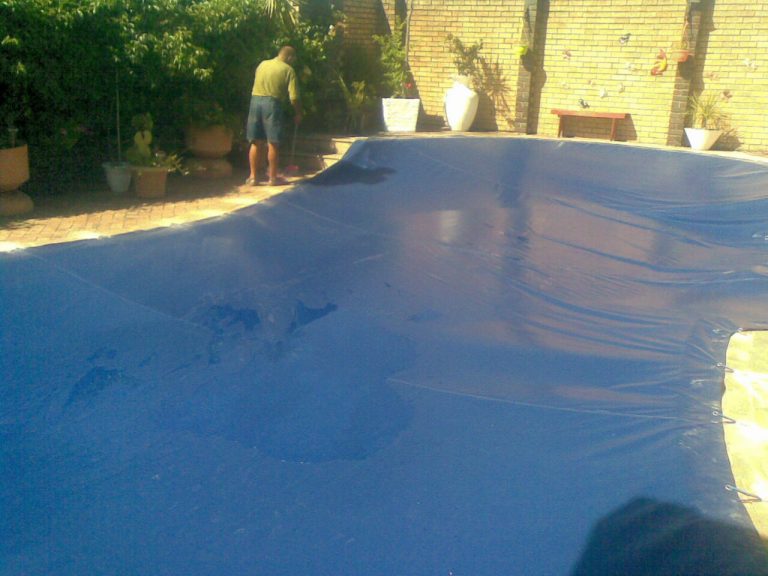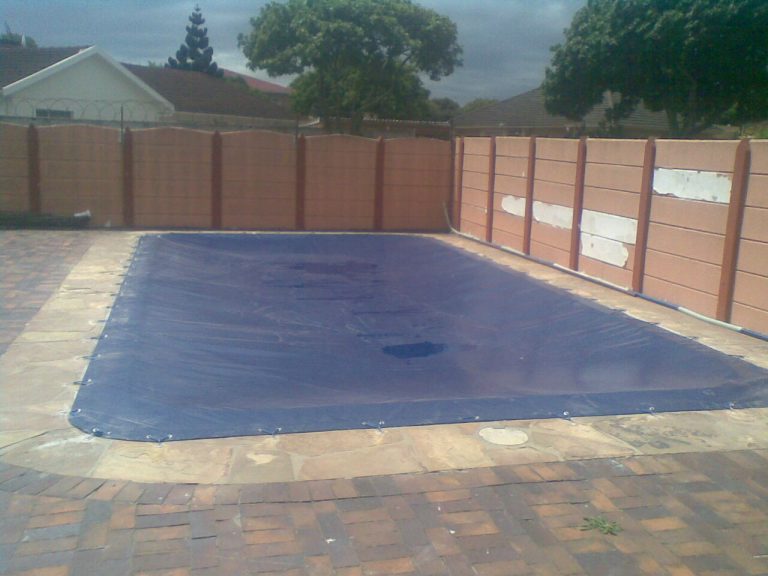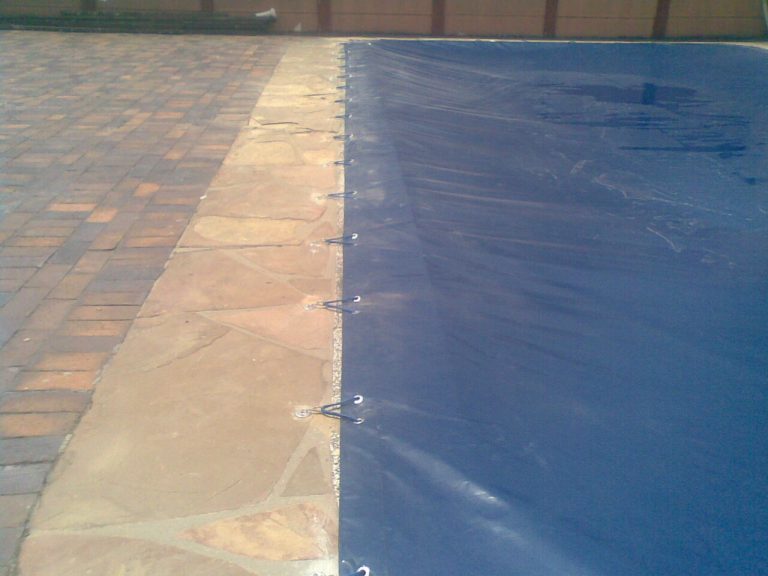 Leaf Catcher Pool cover are perfect for stopping large debris from falling into the pool. Made from UV treated shade net with stainless steel hooks and plates along a reinforced hem. Making it a long lasting and cost effective product.
A NOT REGARDING FLOATING POOL COVERS
There are basically two types of pool covers: safety pool covers and floating pool covers. Safety covers are designed primarily as a physical barrier to prevent children from falling into the pool water. As an indirect benefit, safety covers often help keep the pool water warm. Floating covers, as the name implies, float on top of the water and are designed primarily to heat the pool water utilizing solar energy. Floating covers are not safety covers. However, both types of pool covers tend to keep leaves and other debris out of the pool, reduce heat loss, and reduce water evaporation. The following is a description of pool covers which you might consider purchasing and recommendations as to their acceptability.

Floating Pool Cover As the name implies, floating pool cover are designed to float directly on the water surface and are not securely anchored. Floating pool covers range in style from a bubble type cover to a plastic blanket. Those which are made of plastic sheets with air bubbles throughout are often referred to as "bubble covers". Some floating covers are designed to be held down with sand bags or other weights placed on the deck. However, such covers are not necessarily securely anchored.

Floating pool covers are considered by many pool safety experts to be inherently dangerous. For example, toddlers are attracted to them like to toys. They are typically opaque or translucent, not transparent, thus making it difficult, if not impossible to clearly see what is beneath them. Secondly, when placed upon the water the cover gives the appearance that it can be walked on; especially to the eyes of a small child. Because they are normally not securely attached to the pool, floating covers can collapse under the weight of a child and possibly result in suffocation.
Tests have shown that floating pool covers will return to their original position within 10 to 20 seconds after something has fallen underneath them, thereby concealing a potential drowning victim. There have been documented cases of children being trapped and hidden from view under such covers who were not found until brain damage or death had occurred.

In addition, pool bathers have been known to fold back only part of the floating cover and swim in a half-covered pool. Bathers can become disoriented, swim under the cover, and become trapped underneath. In one case, both a mother and her two children drowned when they became trapped underneath a floating pool cover while swimming.

To reduce the risk of a floating pool cover, you should:

1. Make sure your pool cover meets or exceeds the ASTM Standard Performance Specifications for pool covers.
2. Always remove the pool cover completely before entering pool.
3. Always remove standing water from the pool cover.
4. Always cover the pool with a safety cover per ASTM standards when not in use.[/su_quote]

We are a member of the
National Spa and Pool Institute Of South Africa