SPILL CONTAINMENT
When it comes to protecting your floor and the environment from oil or chemical spills, Popular Canvas' spill containment Berms will help contain the mess.

The berms can be used in many areas such as:
Oil spills
Concrete mixer spills
Compressor and generator spills
Vehicle oil spills
water overflows
PORTABLE SPILL CONTAINMENT BERMS
Portable berms are smaller in size and are made from heavy duty PVC canvas making it rugged and long lasting. The walls are filled with foam making them easily folded away and stored when not in use. The material is easy to clean after use.
| | | |
| --- | --- | --- |
| Length | Width | Height |
| 500mm | 500mm | 150mm |
| 1000mm | 1000mm | 200mm |
| 2000mm | 1000mm | 200mm |
COLLAPSIBLE SPILL CONTAINMENT BERMS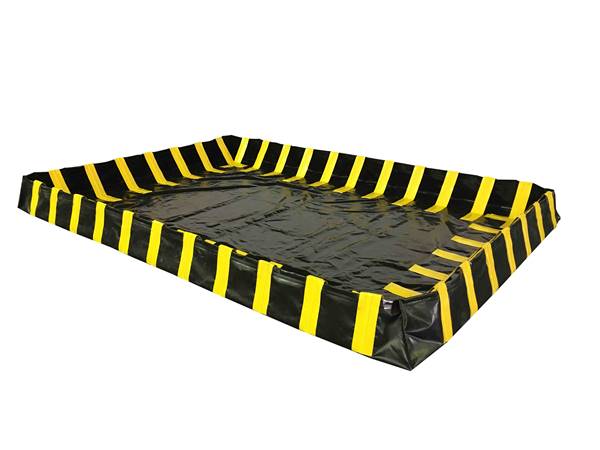 Collapsible Berms are used for areas which require a larger volume of storage while The walls are collapsable allowing vehicles to drive over the walls when flat, and then erecting the side wall to contain the area around the vehicle.

Made from Heavy duty PVC with reinforced walls for long lasting and durable products.
Our Collapsible Berms are manufactured to custom sizes and generally approximately 300mm wall height and any floor size.
Contact our staff today to arrange a quote.